Car Accident Attorney in Rockford, IL
At MacCloskey Kesler and Associates, we have decades of experience helping people who have been injured in semi-truck accidents. Claimants must act quickly to recover full financial compensation for their injuries because there are time limits that may reduce a victim's rights.
Rockford Car Accident Lawyers
As car accident lawyers in Rockford, Illinois, we find many of our clients' entire lives suffer when a car crash occurs. We are here to help. Use the following information here as a comprehensive guide to everything surrounding car accidents. Feel free to use this page as an informative handbook for your automobile needs. You'll learn about the types of crashes that occur. You'll also read about the types of injuries sustained in auto accidents, how much those injuries cost on average, and what to do if you ever get into a car accident in Rockford.
While this page should be saved to refer to for many of your auto needs, it is no substitute for our experience as car crash attorneys in Rockford. Contact MacCloskey Kesler & Associates right away if you've been in a car crash. We can help if you have been injured as a result of a car accident in Rockford. Our attorneys will assist you in finding the right path toward any financial damages that you've accumulated from the automobile accident.
First, let's take some time to fully understand your risks when you're out there on the road.
According to the Illinois Department of Transportation, there are over 6,500 car accidents every year in Rockford and the surrounding area in Winnebago county. Of those car accidents, more than 1,600 of them involve some injury for the driver or passengers (nearly 25%). That means that, on average, about eighteen car accidents occur every day in Winnebago county. Injuries result in those accidents about once every five hours. Crashes that are most likely to cause injury include the following:
Being Rear-Ended
Single-Vehicle Crashes into an Object
Overturning a Vehicle
Striking a Pedestrian
Accident involving a Bicyclist
Motorcycle Accidents
Distracted Driving
Head-on Collisions
DUI / Drunk Driving
Causes of Car Crashes in Rockford
There are many reasons that car crashes happen in Rockford. When living in a city in the northern portion of the midwestern United States, weather can be a significant factor in losing control of your vehicle. Rockford drivers must deal with snow for the winter months. We drive in the rain during springtime. And because of the salt in the cold season, many construction zones are repairing the roadways during the summer. Acute injuries occur nearly 200 times per year during inclement weather driving conditions in the Rockford area.
Types of Vehicles Involved in Car Accidents in Rockford
While standard passenger vehicles are by far the most common type of car on the road, other kinds of automobiles are more often involved when injuries occur. The primary indicator of whether or not a person in a car accident will be injured is age. As one would predict, a child aged 0-3 years or an older person aged 65+ years is more fragile physically. The sometimes brutal impact of a car accident is more likely to injure people in these age groups. That means families driving SUVs, Minivans, and Pickup Trucks have a slightly higher chance of injury while driving in Rockford. Furthermore, vehicles with very little protection like motorcycles have a higher risk of injury as well.
Financial Impact of Suffering an Injury in an Auto Accident
The economic impact of automobile accidents is staggering. According to the National Safety Council, in recent years, car crashes in the United States lead to over $400 Billion per year in damages, including loss of life and productivity of those involved. Furthermore, with greater than 40,000 estimated vehicle deaths each year, the economic implications for drivers and their families and businesses are astronomical. On top of pain and suffering and possible loss of life, on average, injured victims of these car crashes are forced to cover around 26% through premiums and deductibles. You can see an even higher number of financial losses every year as the population rises, and more drivers are on the road. 
What to do if You're in an Automobile Accident
The first step when you're involved in a car crash is to call your auto insurer as soon as you can, but do not admit fault. You may be denied compensation or hurt your case if you take responsibility. Be honest about what happened, but do not assume it was your fault. Next, report the accident to the police. Again, relay the facts and just the facts. Do not try to come to conclusions about what happened or put thoughts or words into others' mouths. Then ask for a copy of the police report. Next, get medical attention as soon as possible. A person injured in a car crash may not know they are injured, as some injuries are not visible. You may also be in a state of shock or concussion, and your physician will be able to help. Make sure you also trade contact information with the other driver. Then, document the scene of the accident. Write down anything you remember, because memory fades. Also, take photographs of the area; they will be helpful for insurance adjusters or investigators. If possible, interview witnesses on camera with your smartphone. The final step would be to discuss your case with a qualified Illinois Auto Accident Attorney.
If you are injured, because of either a minor or major accident, your body can suffer for a long time after the initial collision. The car accident lawyers at MacCloskey Kesler & Associates knows the importance of actively seeking out compensation for costs related to your injuries. Call us today at (815) 965-2000 for your free consultation.
Frequency of Car Crashes in Rockford
---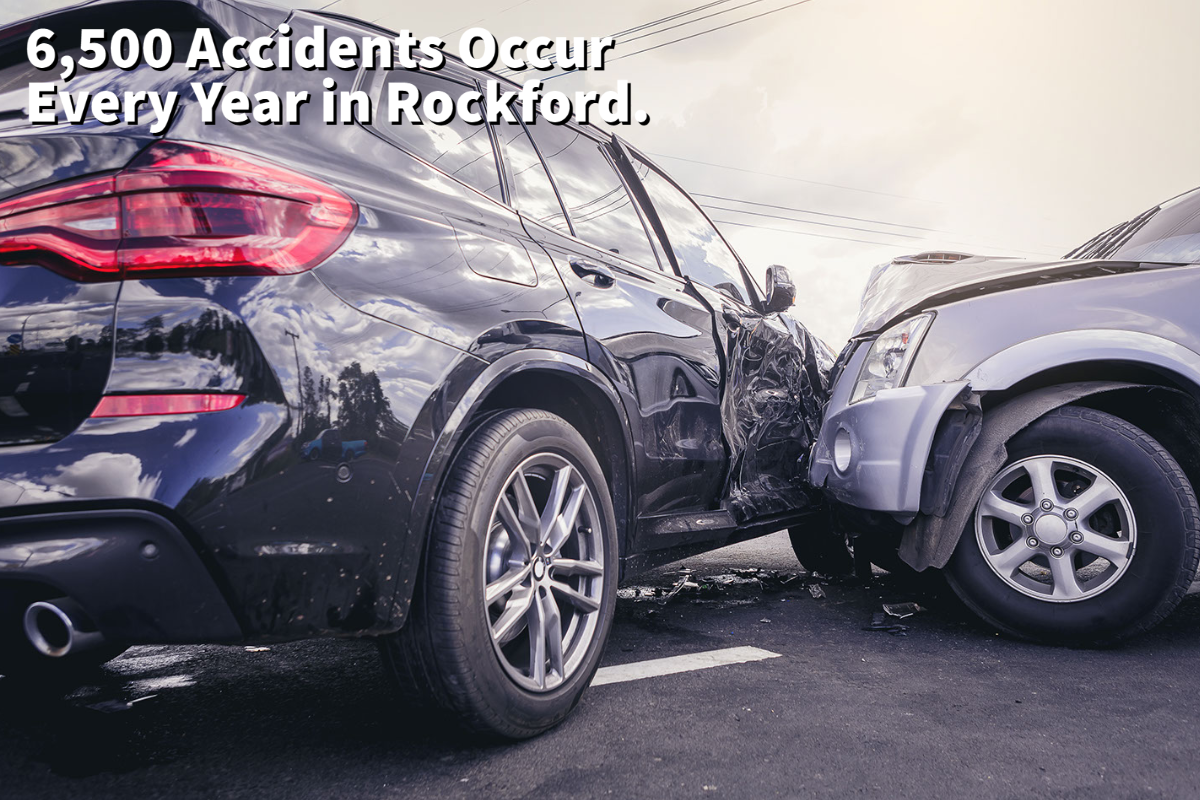 Visit Our Office!
308 W. State St. #200
Rockford, IL 61101
Mon - Fri : 8:00 am to 5:00 pm
Service Areas
Rockford
Machesney Park
Loves Park
Belvidere
Rockton
Roscoe
Byron
Stillman Valley
Freeport
South Beloit
A Statement from Kim & Phil
"We were founded in 1998 because we know what it's like to be injured. We handle dozens of cases per month and have for decades. It takes time to have this much success for our clients. As partners, we guarantee that our associate attorneys, and ourselves, will perform all case tasks at the highest level of professionalism."